The BIBLE says… "For God so loved the world that he gave his one and only Son, that whoever believes in him shall not perish but have eternal life" (John 3:16, NIV).
"This is good and pleases God our Savior, for he wants everyone to be saved and to come to understand the truth" (1 Timothy 2:3-4, NASB).
OUR DILEMMA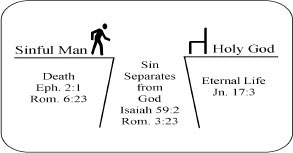 The problem is that people choose to disobey God and go their own way. This results in separation from God. The BIBLE says… "For all have sinned and fall short of the glory of God" (Romans 3:23, NIV).
"But your iniquities have separated you from your God; your sins have hidden his face from you, so that he will not hear" (Isaiah 59:2, NIV).
CHRIST'S DELIVERANCE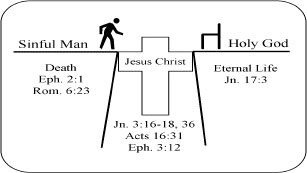 God sent His Son to bridge the gap. Christ did this by paying the penalty for our sins when He died on the cross and rose from the grave. The BIBLE says… "But God demonstrates his own love for us in this: While we were still sinners Christ died for us" (Romans 5:8, NIV).
"For there is one God and one mediator between God and men, the man Christ Jesus…" (1 Timothy 2:5, NIV).
"For the wages of sin is death, but the gift of God is eternal life in Christ Jesus our Lord" (Romans 6:23 NIV).
YOUR DECISION
You cross the bridge into God's family when you confess Christ as Savior and Lord. The BIBLE says… "Yet to all who received him, to those who believed in his name, he gave the right to become children of God" (John 1:12, NIV).
"That if you confess with your mouth, 'Jesus is Lord,' and believe in your heart that God raised him from the dead, you will be saved" (Romans 10:9, NIV).
HOW TO ACCEPT CHRIST AS SAVIOR AND LORD
Admit that you are a sinner in need of forgiveness.
Believe that Jesus died for your sins on the cross and rose from the dead.
Confess Jesus as your Savior and Lord (use the suggested confession of faith below).
I admit that I am a sinner in need of forgiveness. I believe that Jesus is the Christ, the Son of the living God. I want to turn from my sins and accept Jesus as my personal Lord and Savior.
Decide to follow Jesus for the rest of your life and commit to being obedient to Him in every aspect of your life: starting with being baptized and continuing until you are with Him in Heaven.
1. To follow the
EXAMPLE
set by Jesus.
"At that time Jesus came from Nazareth in Galilee and was baptized by John in the Jordan" (Mark 1:9, NIV).
2. Because Jesus
COMMANDED
it.
"Go therefore and make disciples of all nations, baptizing them in the name of the Father and of the Son and of the Holy Spirit, teaching them to observe all that I have commanded you."
(Matthew 28:19-20, NIV).
3. It
DEMONSTRATES
belief in action.
"…many…who heard him believed and were baptized" (Acts 18:8, NIV).
4. It
ILLUSTRATES
what saves us.
"Or don't you know that all of us who were baptized into Christ Jesus were baptized into his death? We were therefore buried with him through baptism into death in order that, just as Christ was raised from the dead through the glory of the Father, we too may live a new life" (Romans 6:3-4, NIV).
Key Scriptures to Read Acts 22:16; Acts 2:38; 1 Peter 3:21; Galatians 3:26-27
If you have failed in following Christ and you are sorry and ready to come back to Him, what must you do?
1. Confess your sins (1 John 1:9)
2. Surrender your life to Christ in the following areas:
* Read your Bible daily (Colossians 3:16; Psalm 119:11).
* Pray daily (Philippians 4:6, 7; 1 Peter 5:7).
* Attend church weekly (Hebrews 10:24-25; Acts 20:7).
* Join a Sunday School Class or a Wednesday Bible study fellowship (Acts 2:46, 47).
* Find an area in which to serve (1 Peter 4:10, 11; Romans 12:4-8).
3. Rely daily on the power of the Holy Spirit. (Galatians 5:16-25).

As you begin to grow closer to God, you will begin to see the fruit of the Spirit being developed in your life (Galatians 5:22-23).

Perhaps you can identify one or more aspects of the fruit of the Spirit which are lacking in your life. Are you ready to ask God to work in you to help you grow toward Christ-likeness? If so, you may want to pray the following prayer or a similar one and please contact us so we can encourage you further:

"Heavenly Father, I want to be like Jesus. I commit myself to you and ask you to work in my life to develop the fruit of the Spirit so I may become more mature in my faith."